Summary of Updated Policies for Companies in Shanghai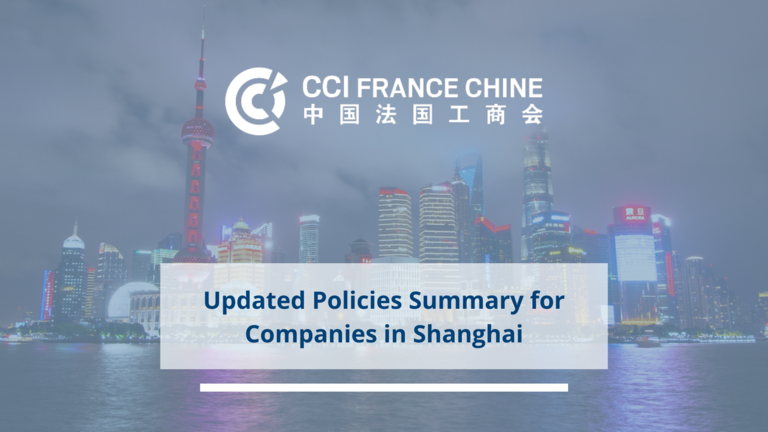 Dear Members,
On May 13th, CCI FRANCE CHINE attended an online meeting organized by SPAFFC (Shanghai People's Association for Friendship with Foreign Countries) and MOFCOM Shanghai (Shanghai Municipal Commission of Commerce).
Jing Ying, Vice president of SPAFFC hosted the meeting, and Shen WeiHua, Deputy director of MOFCOM presented a series of policies carried out by the Shanghai Municipal Government to help companies apply for their work resumption and follow the pandemic prevention guidelines when their employees are back to work. The meeting has given us reasons to look to the future with optimism regarding Shanghai's work resumption in the following weeks.
CCI FRANCE CHINE hereby prepared a list of all the recent policies from the Shanghai Municipal Government and every district in Shanghai. You can find as well documents needed for the transportation license application and permission letter. Each of the functional departments and districts has its working group focused on solving the problems of the foreign companies registered in the district. The use of the application YiQiFu(益企服) is also highly recommended by MOFCOM. For any questions, feel free to contact the key contact person where your company is based. You can also contact CCI FRANCE CHINE for more information.
Finally, you may find following, the list of each Key Contact Person in every functional department and district in Shanghai.
We remain at your disposal for any further information.
Take care and best regards,
Your CCI FRANCE CHINE Team.
---
Annex 1: Procedure for Work Resumption Application
Annex 2: Notes for Industrial Companies
Annex 3: Notes for Trading Companies
Annex 4: Notes for Major Project and Construction
Policies at a glance: