MEMBERS' DIRECTORY 2022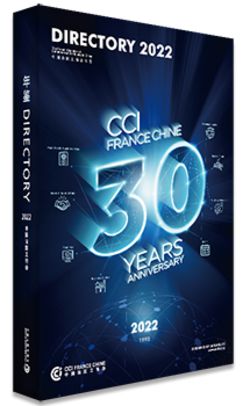 More than a tool for explaining "who's who", our annual directory highlights the dynamism of French companies in China and allows you to widen your network, enhance mutual cooperation, and explore new partnership potentials, in a market offering a wide range of business opportunities in various fields.
2021 Key figures
1,612 Members listed
69 Patron Members
1-year visibility
Readership: Decision makers (CEOs, Managing Directors, Senior Managers), French official services in China, Local authorities.
3,200 print copies distributed
Online visibility
NEW: In 2022, an online member directory will also be available to all of our members on ccifc.org
MEMBERS' DIRECTORY 2023
LIST YOUR COMPANY
CCI FRANCE CHINE Directory is an extremely useful tool to reach customers, to find clients and business partners - and to be found by potential clients and partners. Become a member or renew your membership before October 1st, 2022 and get your company listed in CCI FRANCE CHINE's Directory 2023.
PROMOTE YOUR COMPANY
Benefit from more exposure in the French Business Community in China's number one Directory.
Advertising with the French Chamber of Commerce in China allows you to communicate to your business targets in China. We provide a variety of advertising options including our annual member's directory.
We offer a wide range of location at different prices: Inside Front Cover, Back Cover, Bookmark, a Full Page, ½ Page… all options are totally tailor-made depending on your marketing and communication strategy.
Our members get 20 % discount and can have access to more advertising site.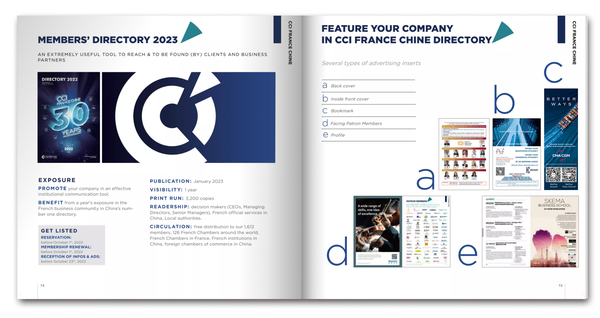 FOR MORE INFORMATION
Please contact our team: