LETTER TO MEMBERS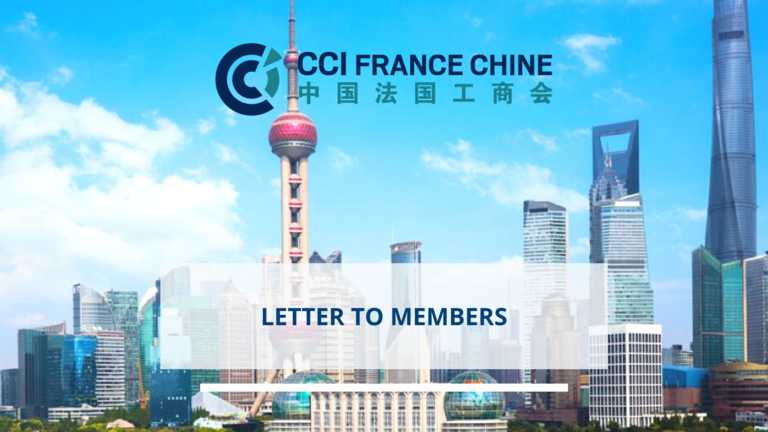 Dear member,
CCI FRANCE CHINE's team hope that you and your family are well and safe during this difficult time.
We are writing to you to keep you updated about the different relief policies issued by the local government to encourage to resume work and production
Please find below the detailed information. We hope it can help you to resume your daily life and business as soon as possible.
Currently, applications for production resumption are primarily accepted from companies in five sectors: those ensuring the city's normal operations, anti-pandemic supplies, important function guarantee, continuous production and supporting infrastructure. The local government is also providing full support to large industrial-chain businesses that have major influence on the Yangtze River Delta and national industrial and supply chains.
Under the premise of pandemic prevention and control, Shanghai has made some progress in the resumption of work and production. A "white list" for key enterprises has been established. So far, the first batch of 666 enterprises and a second group of 1,188 have been included on the list.
The next step will be to issue a notice on the resumption of commercial and trade enterprises and guidelines on the prevention and control of the pandemic, as well as establishing a "white list" for commercial and trade companies to resume operations.
In the early stages, Shanghai is focusing on leading companies like SAIC, Tesla, SMIC and Huahong and related supporting enterprises, in the hope this will help the resumption of work among upstream and downstream businesses in supply, industrial and even logistics chains, and then extend work resumption to related enterprises in the Yangtze River Delta region.
At the same time, all three provinces (Zhejiang, Jiangsu and Anhui) and the city in the delta will further optimize the "whitelist" and expedite the trial implementation of the "white list pool" for key industrial and supply chains and their suppliers in different areas of the delta region. This approach will expedite the recovery of entire industrial chains in the region.
The application process for enterprises to resume work and production can be roughly divided into five steps: preparation, application, inspections, notification of work resumption and returning to work and production.
In line with guidelines for enterprises to begin the orderly resumption of work with controlled risks against this round of the pandemic, enterprises should adequately prepare for personnel involved in production and operations, including a prevention and control plan, and submit the application form to the business park or town where they are located.
After receiving applications from enterprises, the business parks or towns will make a series of assessment, including the implementation of primary responsibility; classification management of the premises; employee management; logistics management; guarantee of anti-pandemic materials; and a emergency disposal plan to verify the situation and issue approvals.
In terms of Relief policies, small and micro enterprises and private businesses are entitled to three-month rent relief in 2022 if their landlords are state-owned enterprises while those located in medium- and high-risk areas or whose operations are seriously affected by the pandemic prevention and control measures are eligible to a total of six-month rental waiver during the year. Such reductions and exemptions do not apply to re-letting cases.
All medium-sized, small and micro enterprises and private businesses whose operations are affected by the pandemic are now entitled to delayed payment of social insurance premiums. Previously, such policies were only confined to the most seriously affected industries such as catering, retail, tourism, civil aviation, and road, water and rail transportation.
On March 24, the Ministry of Finance and the State Administration of Taxation announced that from April 1 to December 31, small-scale VAT taxpayers falling in the 3 percent rate category are exempt from tax payment while tax payment by companies falling in the 3 percent prepaid rate category is temporarily suspended. On the city level, Shanghai has also introduced a series of tax incentives, including value-added tax credit refunds and tax waivers, with priority for micro and small firms as well as private businesses.
We will keep you updated about the policies constantly and feel free to contact us if any question.
You can also find the complete article from below link:
https://mp.weixin.qq.com/s/DIAAsIQrImTiqQ3m_ElGVQ
https://mp.weixin.qq.com/s/AxDI6glsSqOEvqqoI1IpvQ
https://www.shine.cn/covid19/2205035150/
https://baijiahao.baidu.com/s?id=1731675567356224653&wfr=spider&for=pc&searchword=%E5%A4%8D%E5%B7%A5%E5%A4%8D%E4%BA%A750%E9%97%AE