The Chamber
CCI FRANCE CHINE launches the Comex X
Comex X is a "Parallel Consultative Board"that will bring together six young collaborators from its companies members.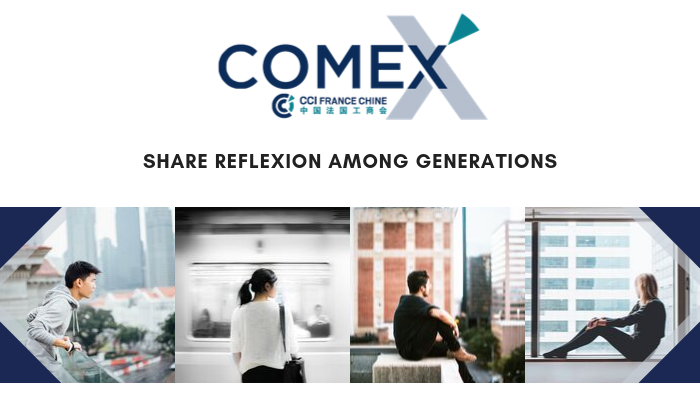 In a world where innovation and digital evolution are accelerating, many companies have decided to bet on collaboration between generations to cope with society changes.
Since the 2000s, more and more companies have introduced junior Consultative Boards to think collectively on the future of their business. Convinced by the principle of this type of committees, CCI FRANCE CHINE could not miss the opportunity to create one of its own.
To shed light on the evolution of behaviors in society.
To share a glance on the Chamber's strategic orientations.
To bring fresh ideas to animate the French-Chinese business network.
Constitute a working group on a subject of innovation/disruption.
Participate in turn to CCI FRANCE CHINE National Board Committee as an observer and make a report of astonishment.
Participate -following interest and added value - to CCI FRANCE CHINE working groups or existing Commissions.
The first Comex will be elected for 1 year and 3 months. The following ones will be elected for 2 years. Each investiture can only be renewed once.
The Comex X will be a parallel Committee composed of 6 members :
Under 35 years old
Women and men
French & English speakers
From various sectors and company profiles
The first Comex X will be formed at the end of November. All our member companies' employees (up to date of contribution) responding to the criteria can send their application until October 31st, 2019. The future members will be invited to go on stage at the CCI FRANCE CHINE Gala in Beijing on Saturday, November 30th.
Fill out the application form and resume your motivation in 150 words.
Make sure your Linkedin profile is up to date.
Mid-November: pre­ selection of 10 candidates for Interview with Board Committee.
Results will be announced by the end of November.