TROPHEE DES TALENTS 2021
第九届法语人才竞赛
Founded in 2013 by CCI FRANCE CHINE, "Trophée des Talents" is a competition to inspire critical thinking and encourage French language learning dedicated to young Chinese generation, with the form of presentation and oral examination.
Our Topic in 2021
What impacts will carbon neutrality bring to our daily lifes ?
碳中和会对我们的日常生活带来怎样的影响?

Program
06.15 Confirm Sponsors & Topic
09.14 - 09.25 Campus Talk
10.15 Deadline for Candidate Registration
10.15 - 10.22 Selection by CCI FRANCE CHINE
10.28 - 11.11 Preliminary Examination
11.26 Final Examination & Awarding Ceremony
Take this opportunity to profit from an exceptional exposure !

Download our Sponsorship offer here
Watch Previous Session Souvenir Video here
Our Partners in 2021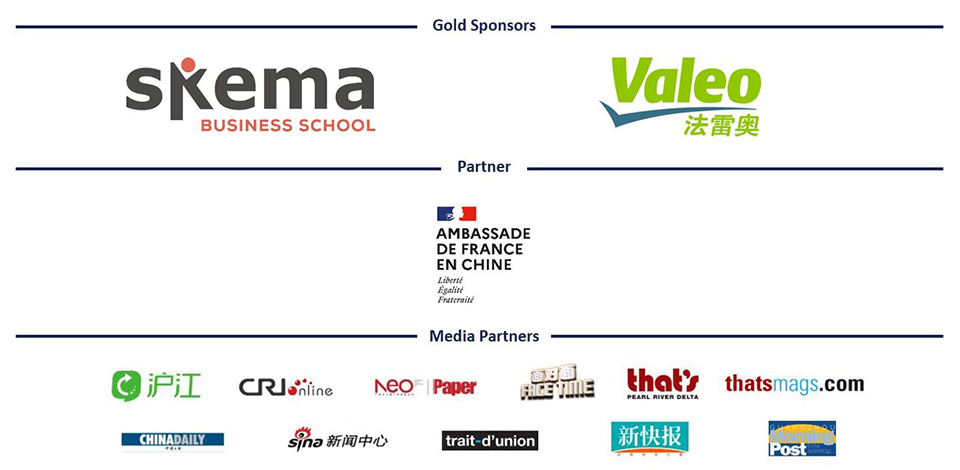 With 9000 students and 48000 graduates, SKEMA is a global research and higher education institution that trains talents who are committed to transforming the world through a sustainable approach. The hybridization between the human & social sciences and data is at the heart of its model, and its modus operandi is global exposure. The school has 7 campuses across 5 continents: 3 campuses in France (Lille, Sophia Antipolis and Paris), 1 in China (Suzhou), 1 in the USA (Raleigh), 1 in Brazil (Belo Horizonte), and 1 in South Africa (Cape Town).
Founded in 2009 following the merger of CERAM busines school and ESC Lille, SKEMA offers more than 70 programmes including Global BBA, ESDHEM, Master in Management, Masters of Science, Specialized Masters®, Doctoral Programmes, Global Executive MBA, Executive Education programmes, Summer Schools.
Multi-accredited by EQUIS, AACSB and EFMD Accredited EMBA, SKEMA is a member of the Conférence des Grandes Ecoles (CGE). Its programmes are recognised in France (Visa, Grade de Master, RNCP, CGE label), the United States (licensing), Brazil (certificação) and China.
Main Rankings:
3rd best worldwide [The Economist 2019 – MSc in International Business]
3rd best worldwide [Financial Times 2020 – Master in Finance]
4th best French school [Financial Times 2019 – Master in Management] and 12th best worldwide
5th best French school [L'Etudiant & Le Parisien 2021 – Grand Ecole programme]
Valeo is an automotive supplier, partner to all automakers worldwide. As a technology company, Valeo proposes innovative products and systems that contribute to the reduction of CO2 emissions and to the development of intuitive driving. In 2020, the Group generated sales of 16.4 billion euros and invested 12% of its original equipment sales in Research and Development. As of December 31, 2020, Valeo has 187 plants, 63 research and development centers, 15 distribution platforms, and employs 110,300 people in 33 countries worldwide. Valeo is listed on the Paris stock exchange.
Since its entry in 1994, Valeo has been sticking to the principle of "Be Chinese in China" to provide the right technologies to our customers. Today, Valeo China has become the biggest country within Valeo Group in terms of sales and employees with 35 production sites, 12 R&D centers and nearly 19,000 employees in China. In 2020, Valeo China OE sales reached 2.082 billion euros with an increase of 7% year-on-year, outperformed global automotive production by 14%, and accounted for 15% of Group's OE Sales.