Events
Support the Téléthon 2019 alongside the French associations in Shanghai!
The French associations in Shanghai are preparing a special Téléthon evening on Thursday, November 21st at la Residence de France.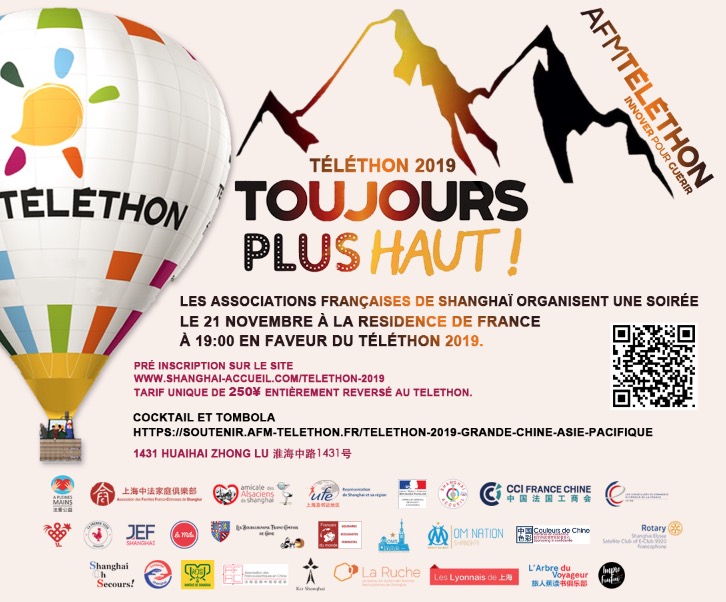 The AFM-Téléthon is born of a conviction and a will: cure long diseases considered incurables or rare genetic diseases, which affect 3 million people in France, half of whom are under 20 years old.
The Association is pursuing a strategy of general interest. The scientific, medical and social innovation that it promotes benefit to all rare diseases and people with disabilities and advances medicine as a whole.
Last year, the FIAFE (Fédération Internationale des Accueils Français et Francophones d'Expatriés) made a commitment to the AFM-Téléthon to support and encourage their actions thanks to its global network of many French associations based in China.
In 2018, the concrete result of the donations allowed:
34 million euros spent on helping patients
250 programs and young researchers finance
€ 59.3 million spent on research
The mobilization in Asia, and particularly in China, is very strong, and we owe it to volunteers who have been engaged for many years, for whom the leitmotif always remains "to do more to give more, to share and never to let go".
TÉLÉTHON 2019 IN SHANGHAI
The French associations in Shanghai are preparing a special Téléthon evening so that this year again our community will be fully commited to this great cause.
Date: Thursday, November 21st
Time: 7:00 pm to 11:00pm
Venue: Résidence de France
Registration: https://www.shanghai-accueil.com/Telethon-2018
GET INVOLVED WITH US
CCI FRANCE CHINE supports the Téléthon for several years. Among our actions, we help the FIAFE to connect with partners from our business community.
And this year again, we need the support of our members to make this wonderful evening possible.
If you want to take part in the Téléthon 2019 in Shanghai as a partner, please contact Gregory LOPEZ : lopezgregory(@)hotmail.com