Events
Spotlight on Beijing Gala 2019!
An exceptional evening, celebrating 55 years of diplomatic relations between France & China!
This year CCI FRANCE CHINE brought together over 650 guests from Sino-French business community.
OPENING
We thank Mr. Christophe LAURAS, President of CCI FRANCE CHINE and his Excellency Mr. Laurent BILI, Ambassador of France in China for their vibrant opening speeches.
A special thanks to our 2 MC of the evening, Mrs. Fang D'ANTERROCHES and Mrs. Caroline PENARD, but also to Mr. Jean-Marc FENET, Minister Counsellor for Economic Affairs at the French Embassy, Mr. Thibaut FABRE, Business France China Director and the CCI FRANCE CHINE Board Members fo their presence.
SYMPHONY ORCHESTRA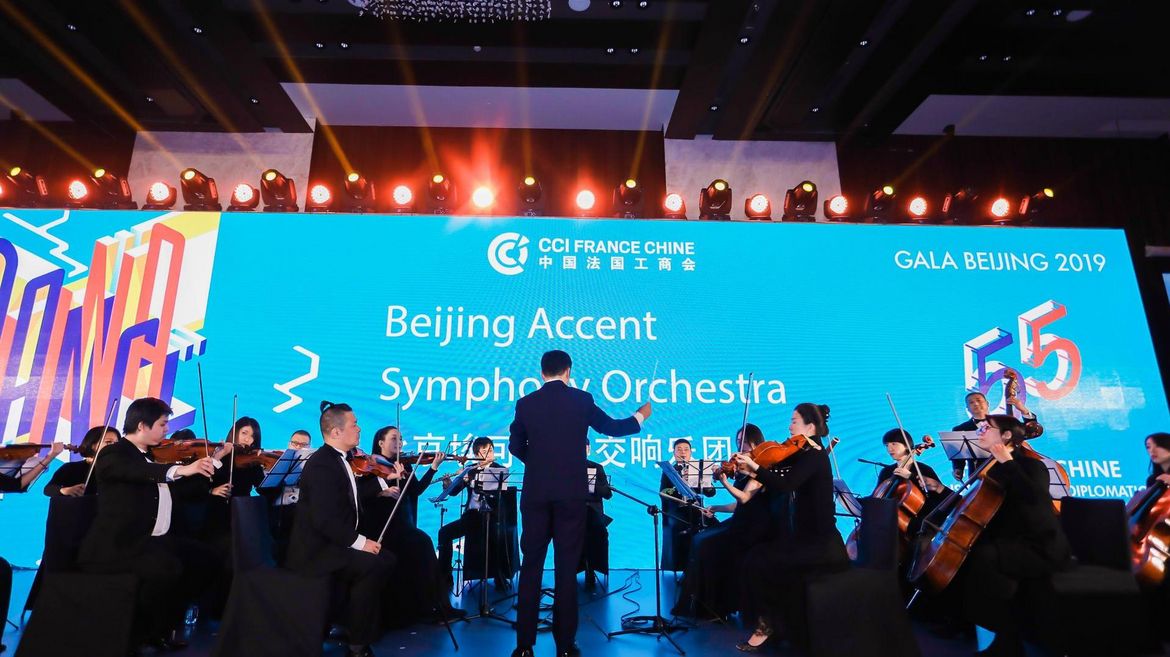 The Beijing Symphony Orchestra "Accent" is one of the most famous in China. Leaded by Mr. Chai Liang, the orchestra did the honor of opening the festivities of this Gala.
NATIONAL BALLET

CCI FRANCE CHINE was honored by the presence of Mrs. Xu Yan and Mr. LI Wentao, star dancers of the National Ballet of China who performed two acts of the famous ballets: "Swan Lake" & "Raise the Red Lantern".
AWARDS - 55 YEARS OF DIPLOMATIC RELATIONS
CCI FRANCE CHINE was happy to celebrate the 55th anniversary of the establishment of diplomatic relations between France and China by awarding 10 personalities who contribute to strengthen the ties between our two countries.
Mr. CHEN Zhu, Vice-Chairman of the Standing Committee of the national People's Congress of the People's Republic of China, President of WRSA

Mr. Jean-Pierre RAFFARIN, Prime Minister of the French Republic (2002 to 2005)

Mr. ZHAO JinJun, Ambassador of China in France (2003-2008)

Mr. MA She, Former Deputy Director of the Europe Department of the Ministry of Commerce

Mr. GUO Guangchang, President of FOSUN

Mr. Henri GISCARD D'ESTAING, President of Club Med

Mrs. LI Lucia, Presidente of Beijing Trade Association in Services

Mr. André CHIENG, Vice-President of Comité France Chine

Mrs. Annick DE BENTZMANN, CCI FRANCE CHINE Honorary Presidente

Mrs. WU Min Xi, Director of Culture & Art CINQUINI
LAUNCH OF THE COMEX X
The Comex X, CCI FRANCE CHINE "Parallel Executive Board", bringing together 8 young professionals under 35 from its companies members , was officially launched during the evening.
Congratulations to the new Members of Comex X : Thibault ALCORANI (Créative Union), Clément BARRAU (Crédit Agricole CIB), Anne-Sophie GAUVIN (Pramex International), Zola HONG (Altavia-CC), Jiabin LI (Choose Paris Region), Jizhou PENG (Pierre Fabre), Matthieu ROCHETTE-SCHNEIDER (centdegrés) & Yueyao WANG (PVCP China Real Estate Brokerage).
LUCKY DRAW
So many wonderful gifts offered by Air France, Puy du Fou, PVCP, Crédit Agricole CIB, Peugeot, Maison LENER, Accor, Catherine de France, Baron Philippe de Rothschild - Mouton Cadet, Chando and Nespresso.
OUR PARTNERS
Thank you to all our sponsors that made this event possible :