Companies news
Saint-Gobain is proud to have contributed to the Beijing-Daxing International Airport construction!
Opened this October 1st, 2019, the world's largest airport is impressive. Behind its distinctive starfish shape, this extraordinary project relied on SaintGobain's expertise with Weber and Gyproc materials.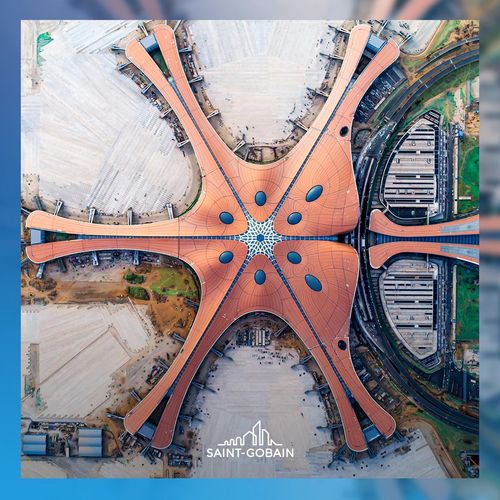 Saint-Gobain was chosen to equip China's brand new Beijing-Daxing airport. With a capacity of up to 100 million passengers per year, this ultra-modern terminal is going to revolutionize the passenger experience.
From the aircraft windows, you can't miss it. A gigantic copper-colored starfish. This 700,000 square meter building is the largest airport terminal in the world. The equivalent in size of 25 football fields! For this unusual project, several Saint-Gobain solutions were chosen: Weber tile adhesives but also several tens of thousands of m² of Gyproc plasterboard, some of which are from the Habito range, installed throughout the terminal.
Built to relieve congestion at the existing Beijing Capital International Airport, the new terminal offers travelers many innovations: security checkpoints with facial recognition technology and a radio frequency system that allows them to track their luggage in real time on their mobile phones.
If you travel to Beijing, come and take a closer look at this masterpiece imagined by the architect Zaha Hadid that can be observed from afar!