Powering metro projects across top 10 Chinese cities with Alstom's sustainable mobility solutions
Seven lines in Chengdu, Shanghai and Xi'an enter passenger service
27 January 2021 – The last two months have seen seven metro projects entrusted to Alstom across three of Mainland China's top 10 populous cities – namely Chengdu, Shanghai and Xi'an – come to fruition. This follows the Chinese tradition of opening new transit lines during the New Year period.
From Shanghai's Grade of Automation 4 (GoA4) driverless metro lines 10 (phase two), 15 and 18, Xi'an Line 5 (phases one and two) to Chengdu's metro lines 17 (phase one) and 18 (phase one), as well its first GoA4 driverless Line 9 (phase one), Alstom and its joint ventures in China, Shanghai Alstom Transport Electrical Equipment Co. Ltd (SATEE) and CASCO Signal Ltd celebrate their continued contributions to the country's urban transit development. With the successful opening of these four GoA4 driverless lines, Alstom brings its wealth of experience and advanced traction technologies to the Chinese market.
Between December 2020 and January 2021, SATEE supplied its OptONIX and ONIX metro traction systems for 1,088 metro cars of four metro lines – Chengdu Line 9 (200 cars), Shanghai Line 10 (156 cars), Shanghai Line 15 (324 cars) and Xi'an Line 5 (408 cars), with support from Xi'an Alstom Yongji Electric Equipment Co. Ltd (XAYEECO). It was also responsible for the train control monitoring system (TCMS) of Shanghai Line 10 and Shanghai Line 15, and the latter line's train electrical design. During the same period, CASCO has successfully put into service its Urbalis 888 signalling solution on six of these metro lines in Chengdu and Shanghai.

"We are humbled and excited for the various opportunities across major Chinese cities to provide a reliable, efficient and comfortable connectivity experience for their commuters. We remain committed to supporting the country's bold ambition of urban rail transit expansion while delivering our service proven and sustainable mobility solutions to even more travellers," said Olivier Loison, Managing Director for Alstom in China & East Asia.

Alstom has been operating in China for over 60 years. Today, 30% of the radio communication based train control (CBTC) solutions are supplied by CASCO, cementing its lead in China's railway signalling sector. Alstom has provided traction systems for more than 40% of the GoA4 driverless metro lines in China, and is currently delivering for the Nanjing Line 7 project. Designed and developed specifically for the Chinese market in 2009, OptONIX is in operation today on 4,422 metro cars across six cities. This experience enables Alstom to innovate and implement an upgraded OptONIX system for the four metro projects in Chengdu, Shanghai and Xi'an, achieving higher levels of energy efficiency and electrical braking while remaining 98% recyclable.
ABOUT ALSTOM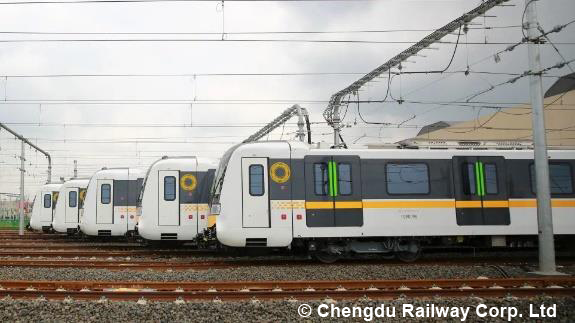 Leading the way to greener and smarter mobility worldwide, Alstom develops and markets integrated systems that provide the sustainable foundations for the future of transportation. Alstom offers a complete range of equipment and services, from high-speed trains, metros, trams and e-buses to integrated systems, customised services, infrastructure, signalling and digital mobility solutions. Alstom recorded sales of €8.2 billion and booked orders of €9.9 billion in the 2019/20 fiscal year. Headquartered in France, Alstom is present in over 60 countries and employs 38,900 people.