Guidelines for resuming work and production for Industrial & Foreign Trade Companies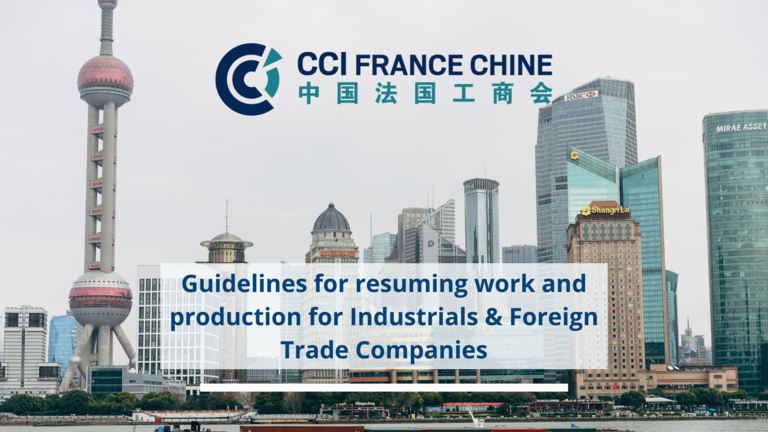 Dear Members,
On April 16th, the Shanghai Municipal Commission of Economy and Information (SHEITC) released the first edition of the epidemic prevention and control guidelines for industrial enterprises in Shanghai to resume work and production. According to the guidelines, on the premise of ensuring that risks are controllable, Shanghai will effectively promote the resumption of production of enterprises in a rational and orderly manner.
The applicant company should ensure the following:
Confirm the responsible person within the company in charge of implementing safety measures related to Covid-19
Implement management of different zones according to the location and function
Strengthen employee management
Strengthen management of logistics and anti-epidemic materials
Prepare emergency plans and logistics support

For detail information, please see the link below:
https://mp.weixin.qq.com/s/MUE-REGpt4XdLM-uwuB0RA
Guideline for resumption of work for foreign trade enterprises:
Foreign trade enterprises applying for resumption of work must submit relevant materials through the Foreign Trade Department of the Commerce Commission of each district where the enterprise is originally registered. The prerequisite condition of the application is that the import and export volume of the company in the previous year must have reached at least 100 million RMB. The application will be reviewed and submitted by the District Commerce Commission to the Municipal Commerce Commission. The specific information is subject to the information released by the Commerce Commission.

Please find below two documents required from MOFCOM that you can submit to the relevant contact of your district.
1. Application Format: Click here to download the document
2. Letter of commitment: Click here to download the document
CCI FRANCE CHINE remain at your disposal at this moment in Shanghai and remain more than ever mobilized to continue meeting your specific needs.
Your CCI FRANCE CHINE Team