Event report
French Chambers In Asia: CEOs Round Table
These business leaders in Asia give us insight on how they plan to map out a path to revitalization in the post-COVID era.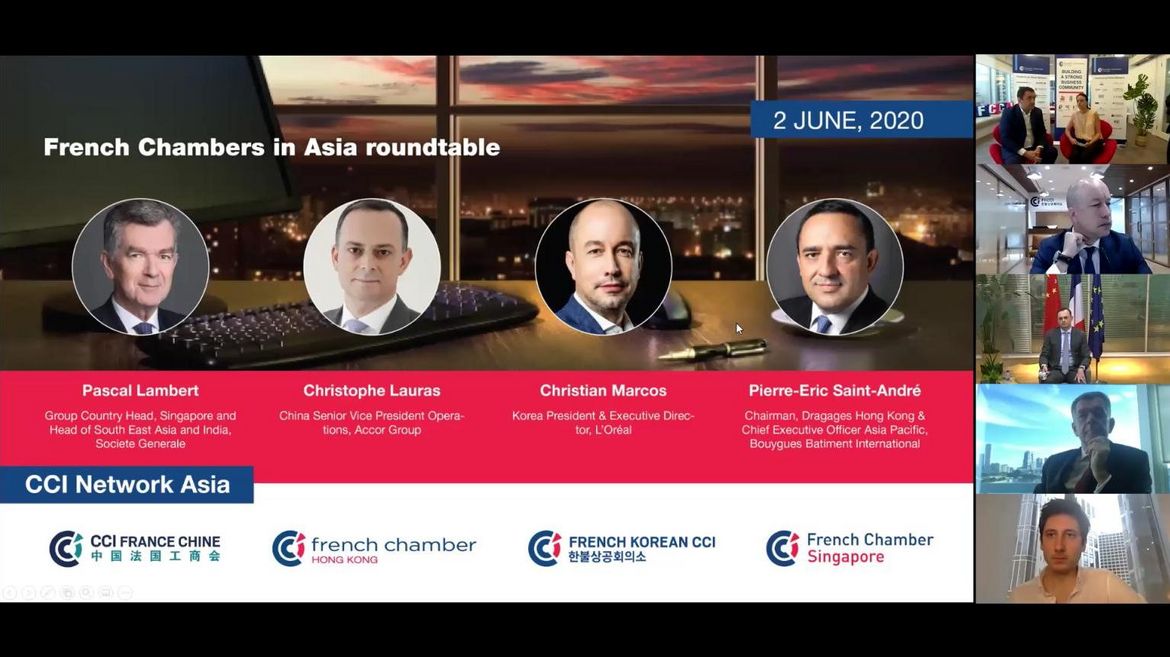 The network of French Chambers around the world is stronger than ever and is multiplying collaborations. On the 2nd of June, CCI FRANCE CHINE participated in an exceptional webinar bringing together 4 CEOs from French Chambers in Asia to discuss what's ahead for their sectors and the post COVID-19 world. Each CEO represented a diverse sector. From construction and hospitality to finance and retail, they outlined the significant impacts on their industries and regions.
A big thank-you to our guest speakers for the valuable insights shared and for showing the solid bond that defines our network:
Pascal LAMBERT, Société Générale / French Chamber Singapore
Christophe LAURAS, Accor/CCI FRANCE CHINE
Christian MARCOS HARNAY, L'Oréal / French Korean Chamber
Pierre-Eric SAINT-ANDRE, Bouygues Bâtiment International / French Chamber Hong-Kong
SPEAKERS

Mr. Christophe LAURAS
Senior Vice President Operations for the Accor group China
French Chamber CHINA
Christophe Lauras is the current President of the French Chamber of Commerce in China, an institution regrouping 1,700 companies across the country. Christophe arrived in China in 2001 and is currently based in Shanghai where he occupies the function of Senior Vice President Operations for the Accor group in China.

Mr. Christian MARCOS
President of L'Oréal Koréa
French Chamber KOREA
President at L'Oréal Korea since August 12th, 2019. Mr. Christian MARCOS, a Spanish national, joined L'Oreal in 2004 in Spain and served as General Manager of Biotherm, Yves Saint Laurent and Kiehl's after his career in FMCG industries. Recognized for his success contributing to the growth of business, increasing market share and improving profitability, he has served as General Manager of Lancôme Europe, and General Manager of Luxury Division in Latin America.
Mr. Christian MARCOS has consistently achieved his goals over the past 15 years, working for L'Oréal Group in various areas of marketing, retail, and general management. In all his roles, he always established new standards and showed a refined approach. Through this, he was recognized as a game changing leader.

Pierre-Eric SAINT-ANDRE
Chairman Dragages Hong Kong
Chief Executive Officer Asia Pacific, Bouygues Batiment International
French Chamber HONGKONG
Pierre-Eric is equipped with well-rounded experience in finance, design, build and operates Infrastructure and Building businesses. He has worked in a wide array of industries, spanning from construction and smart city to renewable energy and telecoms infrastructure.
Since 2017, Pierre-Eric is based in Hong Kong and heads the operations of Bouygues subsidiaries in Hong Kong, Singapore, Thailand, Vietnam, Philippines, Myanmar. In 2018, Pierre-Eric notably managed the acquisition of AW Edwards, one of the few leading, family-owned construction and fit-out businesses in Sydney (New South Wales) to expand operations in Australia.
Before joining the Bouygues group, Pierre-Eric has co-founded 2 start-ups: the first one was Aspido a mobile internet service provider in the late 90's and then, Axione, the current French leader for high-speed telecoms infrastructure sold to Bouygues Construction in 2006.
Pascal LAMBERT
Group Country Head - Societe Generale, Singapore and Head of South East Asia and India
French Chamber SINGAPORE
Pascal took on the role of Group Country Head, Singapore and Head of South East Asia and India, when he moved to Singapore in September 2012.
Prior to that, he was the Regional Chief Operating Officer for Societe Generale Corporate & Investment Banking in the Asia Pacific, where he led the Global Business Services Group since January 2010. He joined Societe Generale Corporate & Investment Banking in Hong Kong in June 2009 as Chief Operating Officer for Global Markets, Asia Pacific.
Pascal, representing Societe Generale, has been elected as President of the French Chamber of Commerce in Singapore on 25 August 2017. He also serves as a Director of Passerelles numériques South East Asia and Foreign Trade Advisors (CCE) of Singapour.