Leaf assisted Galeries Lafayette in forming a joint venture with Hopson Group to initiate a new deployment phase in China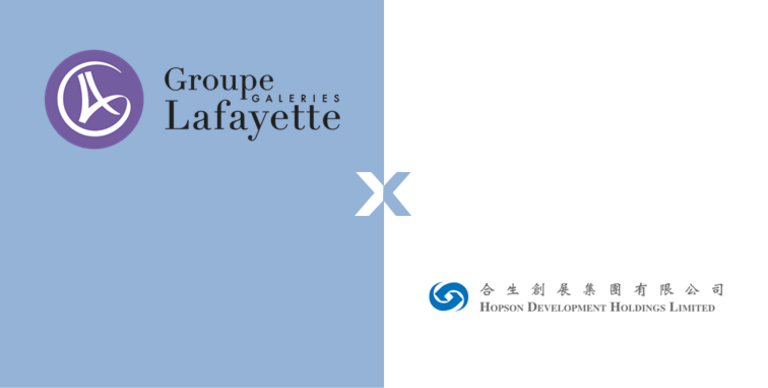 Ready to scale up its ambitions for the Chinese market, Galeries Lafayette has formed a joint venture with Hopson Group – a major listed property firm established in south-eastern China – with a view to developing a strategic partnership.
Leaf advised Galeries Lafayette for the structuring of the operation, the exit of the former JV partner, the follow-up of the due diligence and the drafting and negotiations of the contractual documentation related to the transactions. The team was led by Jean-Philippe Engel, Managing Partner of the Shanghai office, with the assistance of associates Jasmine Zhang and Lin Mengqi.
This alliance will take the roll-out of the Galeries Lafayette brand in China into a new dimension, stepping up the pace of openings to reach 10 stores by 2025, and strengthening its digital presence as part of an omnichannel approach. In addition to Beijing and Shanghai flagship stores, Galeries Lafayette will open three new stores – in Shenzhen, Chongqing and Macau – in 2023.
This ambitious project is based on strong complementarities between the two partners. Galeries Lafayette will leverage Hopson Group's property portfolio, its expertise as an operator of high-end urban complexes and shopping centers, as well as its profound knowledge of the Chinese market to continue meeting the unique expectations of different generations of customers as closely as possible with a carefully curated offering. Hopson Group will draw on Galeries Lafayette's strong identity and fashion and luxury expertise to deploy multi-brand concepts promoting a specific vision of the French art of living at the heart of unique and selective multi-brand environments.
Jean-Philippe Engel, Managing Partner of Leaf's Shanghai Office comments: "This strategic partnership represents a milestone in retail and brands in China. We are proud to have assisted Galeries Lafayette in this transaction, demonstrating once again the expertise Leaf has in crossborder transactions in the retail and real-estate sector."