Invest Foshan Overview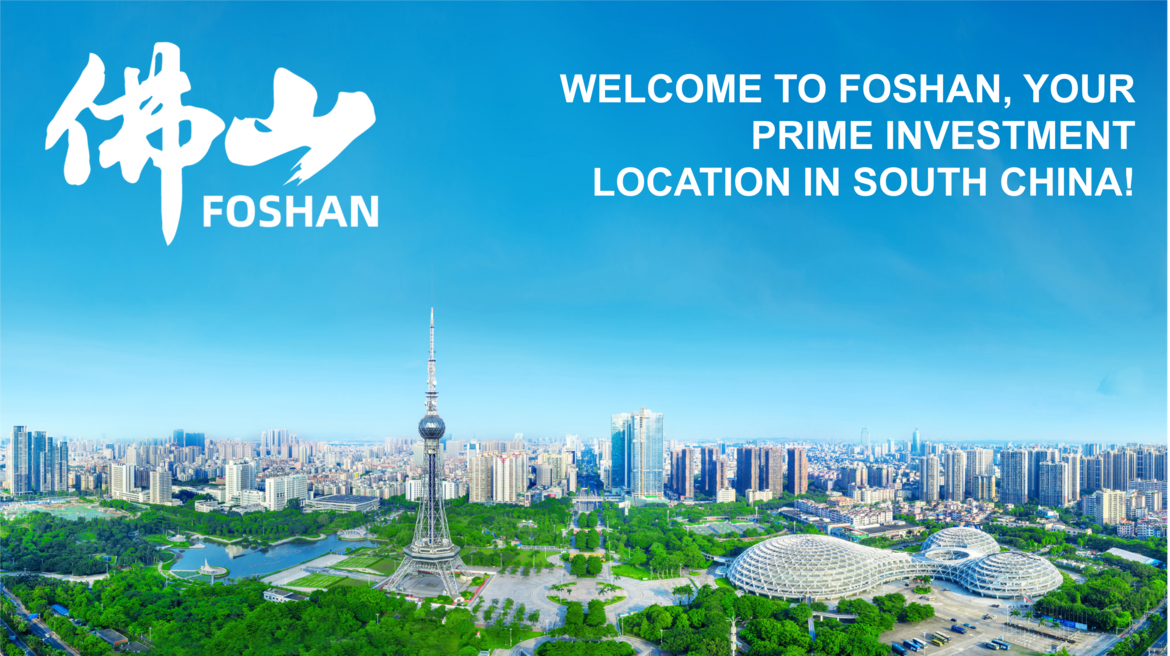 1) Introduction
A pole city in the Guangdong-Hong Kong-Macao Greater Bay Area (GBA)
"Where there is a home, there is Made in Foshan", the city also known as "South China's manufacturing Hub" is an important manufacturing base in China, a critical node city in the GBA, and an economic and trade center as well as a comprehensive transport hub for the west wing of the Pearl River Delta (PRD) region. Foshan has successfully attracted more than 120 Fortune 500 foreign invested manufacturing projects and is also home to 2 local Fortune 500 companies, household equipment manufacturer Midea and real-estate company Country Garden.
Foshan covers a total area of 3797 km2, governing five districts of Chancheng, Nanhai, Shunde, Gaoming and Sanshui, with a total population of 9.5 million. In economic terms, the city is an absolute powerhouse ranking no. 3 among all cities in Guangdong, reaching a GDP of RMB 1.21 trillion in 2021. Among all Chinese cities, Foshan places rank 17 in economic strength. Foshan's further integration into the GBA economy is shaped as follows:
Guangzhou-Foshan (GuangFo) regional integration: GuangFo metro line, the first metro line in China that crosses two prefecture-level administrative regions
"Shenzhen's innovation + Foshan's industries"
Establishing a cooperative mechanism featuring "Hong Kong + Foshan"
Advanced manufacturing & industrial upgrade GBA pilot city
2) Location & Convenient Transportation
Located at the heart of the economically vibrant PRD, the city of Foshan borders Guangzhou on the east, and is close to Shenzhen, Hong Kong, and Macao. The city forms part of the Guangzhou-Foshan Metropolis Circle and serves as one of the three poles of the GBA along with Guangzhou.
As a significant part of the "Guangzhou-Foshan Metropolis Circle", the "Guangzhou-Foshan-Zhaoqing Economic Circle" and the "One-Hour Economic Circle of the Greater Bay Area", Foshan boasts a well-developed transportation system.
Expressways: A complete expressway system with Guangzhou-Foshan as its core has taken shape in Guangdong
Metro Transportation: Guangzhou-Foshan Metro Line is the first intercity transit line in China. Foshan just finished construction of Metro Line 2 and several lines will be completed during the next years.
High-Speed Railways: A high-speed railway network with Guangzhou at its core has been established in the Greater Bay Area. The Beijing-Guangzhou highspeed railway is one example of its interprovincial connectivity. Guanzhou South Railway Station, Foshan West & Sanshui South Railway Station
Airports: Located in Foshan, the New Pearl River Delta Airport is dedicated to promoting industry integration within the Greater Bay Area through an airport industry layout consisting of a core area, two developed axes and three zones. The new airport will also support Guanzhou's Baiyun International Airport.
3) A Key Manufacturing Center for the World

Foshan is the only city for comprehensive reform of manufacturing transformation and upgrading. The scale of Foshan's equipment manufacturing, and household appliance industries has exceeded one trillion RMB and products Made in Foshan are exported to more than 100 countries and regions. The city has a large-scale manufacturing industry with a complete industrial supply-chain including the following sectors:
Advanced Equipment Manufacturing
Intelligent Manufacturing Equipment & Robotics
Household Products
Automobiles & New Energies
Electronic Information
New & Advanced Materials
Food & Beverage
Biomedicine & Healthcare
4) Your Neighbors in Foshan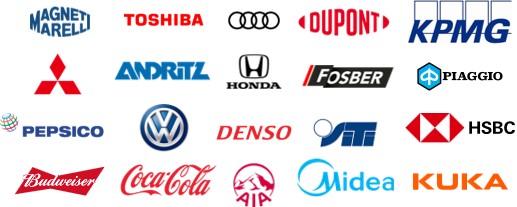 In total, more than 5800 foreign invested enterprises with an accumulative investment of more than US$ 80 bn have chosen Foshan as a manufacturing site, including 122 projects invested by 65 Global 500 companies, with a total investment of US$ 11.8 bn.
5) Industrial Platforms in Foshan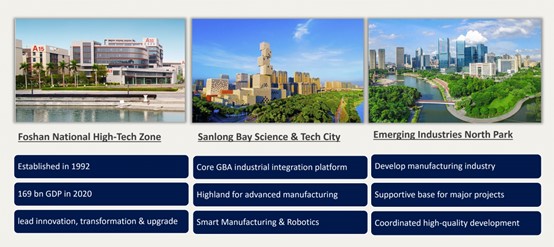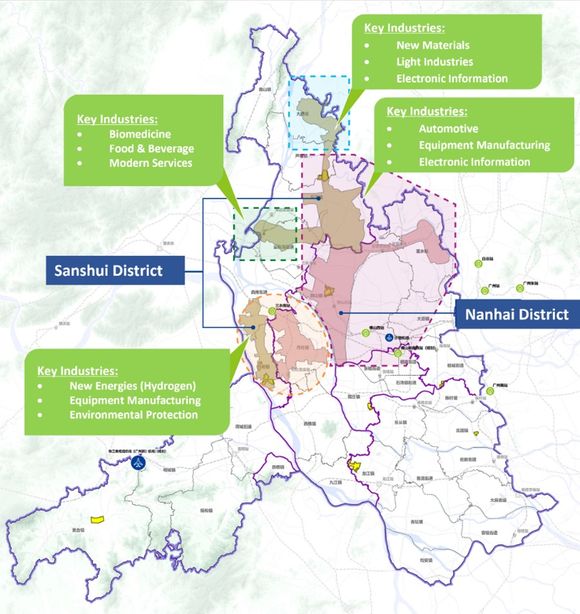 6) Foshan – A place to live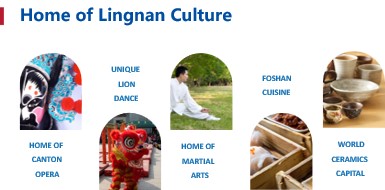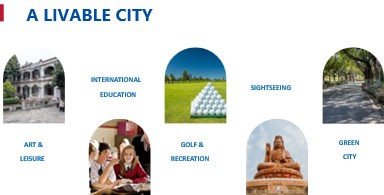 7) Contact Info