COVID-19
Covid-19:Extension of CCI FRANCE CHINE advisory service to companies in France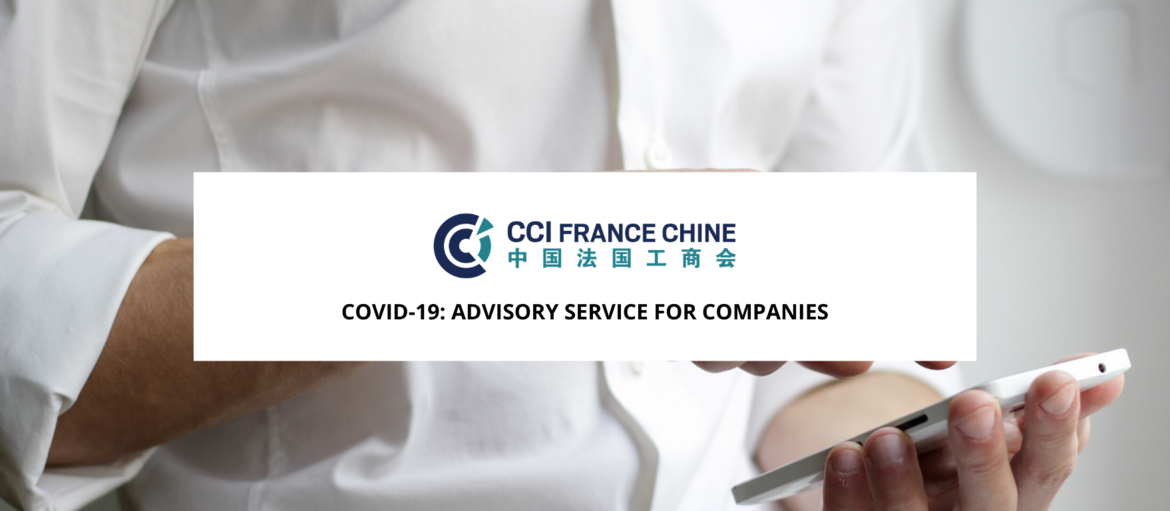 Last January, CCI FRANCE CHINE brought together a panel of experienced members of the Board of directors who went through the SARS crisis in 2003. This panel helped French companies in China to mitigate the first impacts of the covid-19 crisis on their activities.
The current situation no longer affecting only China but the whole world, CCI FRANCE CHINE offers to extend the help of this panel to companies based in France.
The human, material and financial consequences of this health crise must be managed quickly to mitigate the losses and prepare, right now, the resumption of activity.
The panel is therefore here to advise all French companies who want feedbacks and recommendations to make the right decisions during this difficult period.
To contact the panel, please write to :
penard.caroline(@)ccifc.org or Christophe.lauras(@)accor.com
---
En janvier dernier, la CCI FRANCE CHINE réunissait un panel de membres expérimentés de son Bureau National ayant traversé la crise du SRAS en 2003. Ce panel a déjà aidé de nombreuses entreprises françaises présentes en Chine à atténuer les premiers impacts de la crise du covid-19 sur leurs activités.
La situation actuelle ne touchant plus uniquement la Chine mais le monde entier, la CCI FRANCE CHINE propose d'étendre l'aide de ce panel aux entreprises basées en France.
Les conséquences humaines, matérielles et financières de cette crise sanitaire doivent être gérées rapidement pour atténuer les pertes et préparer dès maintenant la reprise de l'activité.
Le panel se tient donc à disposition de toutes les entreprises françaises qui souhaitent des retours d'expérience et des conseils pour prendre les bonnes décisions en cette période difficile.
Pour solliciter ce panel, merci de contacter :
penard.caroline(@)ccifc.org ou Christophe.lauras(@)accor.com
Beyond the companies, members of the French community in China are also volunteering to provide advice on the confinement and organization of school work at home to families who wish to do so. Please contact us to be put in touch with these contacts.
---
Au-délà des entreprises, des membres de la communauté française en Chine sont aussi volontaires pour apporter des conseils sur le confinement et l'organisation du travail scolaire à la maison auprès des familles qui le souhaitent. Veuillez nous contacter pour être mis en relation avec ces contacts.