This training is conducted in Chinese. 本次课程用中文授课。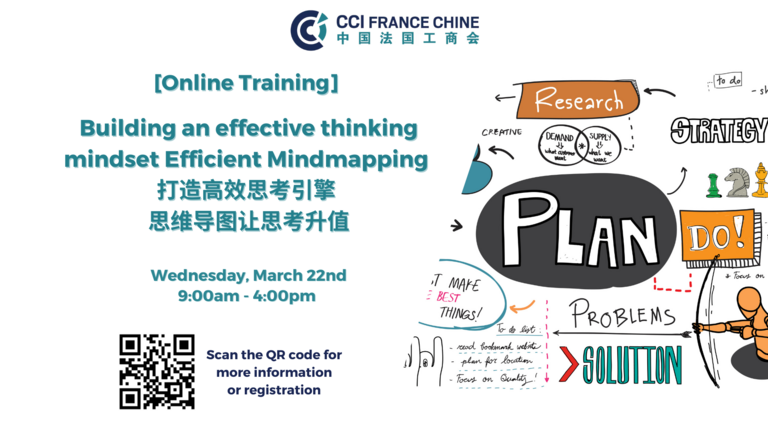 课程简介 Course Description
高效能人士常常被寄予厚望:"既能周密地思考和看待问题,又能果断做出决定并付诸实践"。
面对多元而变化飞速的商业环境,若我们的思考技术停滞在原地,常常力倍功半,未能收获理想回报,例如:
新的知识,一时间无法抓住要点,面临知识体系更新不够快速的尴尬;
新的任务,无法像指挥家一样,统筹规划全局,宁肯用琐碎事务来避开深度思考;
新的想法,未能引起受众的兴趣,可能与更多的资源失之交臂。
这些与底层思考力有关的挑战,都包含对资讯从"解构"到"重构",再到"聚焦"的过程。 在这个进程中,如何有意识地培养和打造适用于职场的高效思考引擎?我们可以专业地运用导图思考法,为思考进程提供连续不断的动力,以开放的心态迎接各种新挑战。
Highly effective people are often expected to be able to "think and look at problems thoughtfully, but also to make decisive decisions and put them into practice".
In a diverse and fast-changing business environment, if our thinking skills remain stagnant, we often get half the results and fail to reap the desired rewards, for example.
New knowledge, unable to grasp the main points at a time and facing the embarrassment of not updating the knowledge system fast enough.
New tasks, the inability to plan the whole picture like a conductor, preferring to avoid deep thinking with trivial matters.
New ideas that fail to capture the interest of the audience may be lost with more resources.
These underlying thinking challenges involve a process of "deconstructing", "reconstructing" and "focusing" information. In this process, how can we consciously develop and build an effective thinking engine for the workplace? We can use the Guided Thinking method professionally to provide a continuous impetus to the thinking process and to meet new challenges with an open mind.
学习者收益 Learner Benefits
学习者通过全程的培训,将:
体验引入导图后的笔记摘要特点,积极参与练习,拓宽对自身学习潜能的理解;
掌握解构信息的三步法,记住重构的两种逻辑关系和四种标准,提高识别和构建复杂信息结构的效率;
以导图为展示形式,呈现个体的学习所得,获得导师的反馈;
制定行动计划,在至少两种工作场景中,能够判断和启用思维导图,提高学习和思考的效率。
Throughout the training, learners will
Experience the features of the summary of notes after the introduction of the guide and participate actively in exercises to broaden your understanding of your learning potential;
Master the three-step approach to deconstructing information, remember the two logical relationships and the four criteria for reconstruction, and improve the efficiency of identifying and structuring complex information;
A guide is used to present individual learning and to obtain feedback from the tutor;
Develop action plans and be able to judge and enable mind mapping in at least two work scenarios to improve learning and thinking.

课程内容 Course outline
一、 启动大脑
读懂大脑说明书: 接收信息的黄金七律
理念:思维导图+思维模型,动态优化思考引擎创造价值
策略:思维导图高效引擎让思考增值—— ①解构 ②重构 ③聚焦
二、 思维导图高效思考引擎之解构,提升快速萃取力
关键词笔记术:一线一词,导图简化接收信息三步法
演练:快速摘要
三、 思维导图高效思考引擎之重构,全方位拓展思考
思维成果品鉴:精度、广度、深度/高度
自下而上头脑风暴,寻找思考主题更多的可能性
从上往下深谋远虑:擅用思维框架清晰构建思路
演练:任务规划和复盘
四、思维导图高效思考引擎之聚焦,让想法极具影响力
尖峰思维模式,解锁长话长说,短话短说
演练:区辨句式中蕴含的两种思维模式
案例解析:高效汇报
五、思维增翼
I. Activating the brain
Reading the Brain Manual: The Golden 7 Laws of Receiving Information
Concept: Mind Mapping + Thinking Models, Dynamic Optimisation Thinking Engine to Create Value
Strategies: Thinking engine to add value to thinking - ① Deconstruct ② Reconstruct ③ Focus
II. Deconstruction of the efficient thinking engine of mind mapping to enhance rapid extraction
Keyword note-taking technique: the word one-line, the guide simplifies the three-step process of receiving information
Walkthrough: Quick summary
III. Reconfiguration of the efficient thinking engine of mind mapping, expanding thinking in all directions
Thinking outcome tasting: precision, breadth, depth/height
Bottom-up brainstorming to find more possibilities for thinking about the topic
Thinking from the top down: using the framework of thinking to build ideas clearly
Walkthrough: Task planning and review
IV. The focus of the efficient thinking engine of mind mapping, so that ideas are very influential
Spiked mindset to unlock long and short words
Exercise: Identify the two modes of thinking embedded in sentences
Case Study: Effective Reporting
V. Thinking to add wings
讲师 Trainer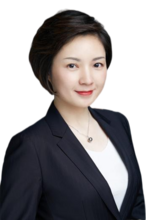 刘丽琼Liu Liqiong
思维导图创始人博赞亲授Master主认证讲师
世界思维导图锦标赛中国区赛事道德与纪律监察长(2021年12月31日由世界思维导图理事会任命)
博赞思维导图授权讲师线上课程中国区特邀导师
结构性思维认证讲师
英国IPMA管理公会认证国际培训师
美国项目管理协会项目管理专家
博赞思维导图53周年盛典"行业功勋奖"&"思维导图推广大使"
Master Master Certified Instructor by Bozan, the founder of Thinking Maps
World Mind Mapping Championships China Event Ethics and Discipline Compliance Officer (appointed by the World Mind Mapping Council on 31 December 2021)
Featured tutor for Bozan Mind Mapping Online Course for Authorized Instructors in China
Certified Structural Thinking Instructor
Certified International Trainer, IPMA Management Association, UK
Project Management Specialist, American Project Management Association
Registration 课程报名
Please scan the below QR code to compelete your registration | 请扫描以下二维码报名
The connecting processes will be sent by email after registration | 报名成功后会发送网课登录信息到邮箱。