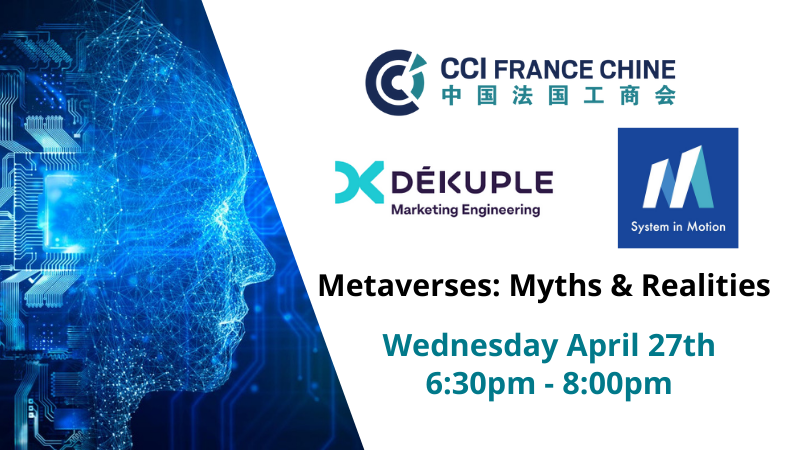 INTRODUCTION
Metaverse is an ill defined concept that creates a lot of buzz. Some companies are trying to catch the train before it leaves the station, but where is it going? How much of the economy can shift to the metaverse? How fast? Should companies get on as early as possible or wait for the dust to settle?
This event:
Classifies the different types of Metaverses
Reviews and scores major Metaverses
Analyses the viability of the current business models,
Details current opportunities available at this stage
This presentation does not require any priori knowledge of blockchain, digital currencies, or NFT. It aims at explaining, in business terms, what are the potential opportunities of these new technologies.
The presenters actually went and visited the major Metaverses, to bring you an unfiltered analysis, freed of the hype, the buzz, and the overinflation.
---
SPEAKERS

Benoit RAOULT
Chairman
AWE China
Born and raised in Celtic-influenced Brittany (France), Benoit Raoult is a computer science engineer with over 15-year experience of entrepreneurship in North America, Europe and Asia. Benoit has been successful so far in developing software, exhibiting his photography work, providing consulting expertise in healthcare and corporate digitalization. Benoit established, Jumo (Healthcare market access consultancy) in 2012, Duhno (Inbound Marketing agency specialized in Brand Mascot usage to maximize repeat purchase) in 2017 and AWE China (B2B data minded agency) in 2019.
Stephane Monsallier
Stephane Monsallier has always been passionate about technology, starting when he learned to code at the age of 10. He later graduated from Supelec in 1993, the top IT engineering school in France. After ten years in Financial IT, he left France and the corporate life to start System in Motion in Shanghai in 2004. His vision was to build a world-class technology consulting company to help corporate modernize their Information Systems in the APAC region. System in Motion has evolved with the rapid changes of the Chinese market, integrating new technologies into the solid foundations of its service offering.
---
INSCRIPTION
Scan the QR Code below to register: