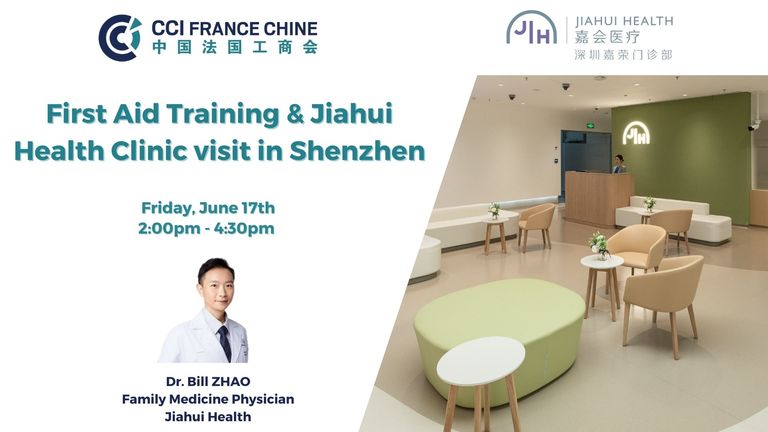 INTRODUCTION
CCI FRANCE CHINE is very pleased to organize this First Aid Training with Jiahui Health (Futian) - Shenzhen Jiarong Clinic on Friday, June 17th.
This event will start with a basic first aid knowledge presentation by Dr. Bill ZHAO. Then, all our participants will have the chance to practice CPR (Cardio-Pulmonary Resuscitation) and Heimlick Maneuver (Abdominal thrusts to treat upper airway choking). After this training, all participants will be able to carry out actions in certain level of emergencies and race against time for professional medical assistance.
By the end, our participants will also have the chance to visit the Jiahui Health (Futian) - Shenzhen Jiarong Clinic, located in the International Chamber of Commerce Tower in Futian District. It opens in 2021 and currently provides a range of international services including family medicine, pediatrics, child care, dermatology and medical aesthetics, and dentistry, as well as a range of medical imaging and medical testing services.
Schedule
Friday 17 June 2022

| | |
| --- | --- |
| 14:00 - 14:30 | Registration |
| 14:30 - 15:00 | Theory part of First Aid Training |
| 15:00 - 16:00 | First Aid Exercise |
| 16:00 - 16:20 | Clinic Visit |
| 16:20 - 16:30 | Group photo |
Speaker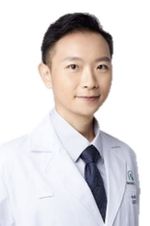 Dr. Bill ZHAO
Family Medicine Physician
Jiahui Health
Dr. Bill ZHAO serves as a family medicine physician at Jiahui Health. He obtained his Bachelor in clinical medical from Guangzhou Medical University in 2006, and his Master degree of Family Medicine from Chinese University of Hong Kong in 2009. After that he had a short period of teaching in Guangzhou medical university before he joined two international medical centers in Guangzhou and Shenzhen mainly serving expatriate families. He then practiced in an international hospital before he joined Jiahui Health, where he passionately involved in preventive care, postnatal care, infectious diseases and chronic disease management etc.
Registration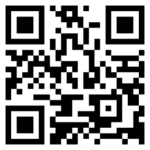 Event Location