A unique opportunity to meet a leading figure of the Media Industry and get an overview of challenges of Media Groups nowadays in France and China.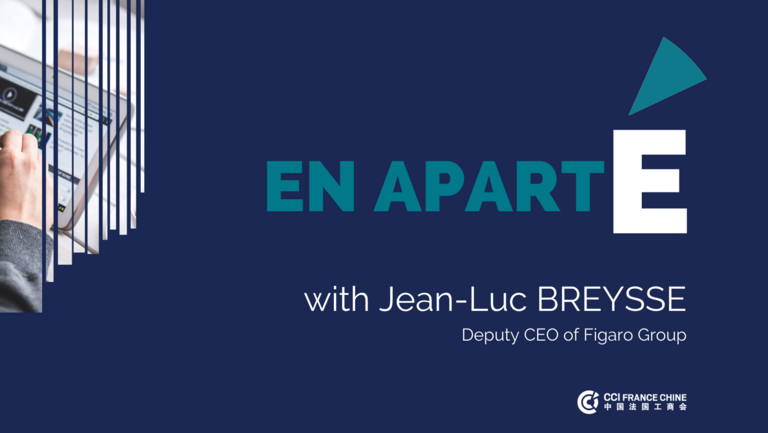 On November 5th, CCI FRANCE CHINE will be glad to welcome, Jean-Luc BREYSSE, Deputy CEO of Figaro Group, for the second edition of "En Aparté": CCI FRANCE CHINE exclusive event to host leading figures.
BIOGRAPHY
Jean-Luc Breysse, 56 years old, joins the Figaro Group as Deputy General Manager and member of the Executive Committee, in February 2012. In charge of both Administrative and Financial departments of the Group (Finances, HR's, Mergers & Acquisitions, Information Systems Division/IT, Facility Management). He also takes over the auditing and the organization of the Figaro Group.
FIGARO GROUP
The Figaro Group is a diverse group of media companies and services. The main focus of the group is the publication of Le Figaro, the biggest daily national newspaper in France with over 313,000 copies distributed everyday.
Over recent years, the Figaro Group has become an important digital news stakeholder: As a result, Lefigaro.fr is the leader in terms of news sites with nearly 23.5 million unique visitors per month (Médiamétrie - global internet - December 2018).
FIGARO GROUP IN CHINA
The brand Madame Figaro will celebrate its 20th anniversary in China in 2020. The Chinese Lifestyle Group, license publisher of Madame Figaro, also publishes the weekly French lifestyle magazine SoFigaro, as well as its social versions on Weibo and Wechat.
The Figaro Group also publishes since 2011 Figaro Chic Magazine and its online versions on wechat and Weibo. Figaro Chic is published in Mandarin from Paris and is aimed at Chinese travelers in search of an authentic experience of the French way of life, a Paris of sophisticated and trendy parishioners.
In 2016, Figaro Group acquired Maisons du Voyage, an upscale tour operator specializing in tailor-made travel, and in 2018 bought Marco Vasco, another high-end tour operator, all of whom are based in Shanghai.
It is in a logic of continuing the development of the brand Figaro in China that the Group has reflected on a new project to develop a lifestyle Fair.
REGISTER
Date: Tuesday, November 5th, 2019
Heure: 18:30 - 20:30
Language: English
Fees: Free, strictly reserved to CCI FRANCE CHINE members
Venue: CCI FRANCE CHINE
Register: click-here