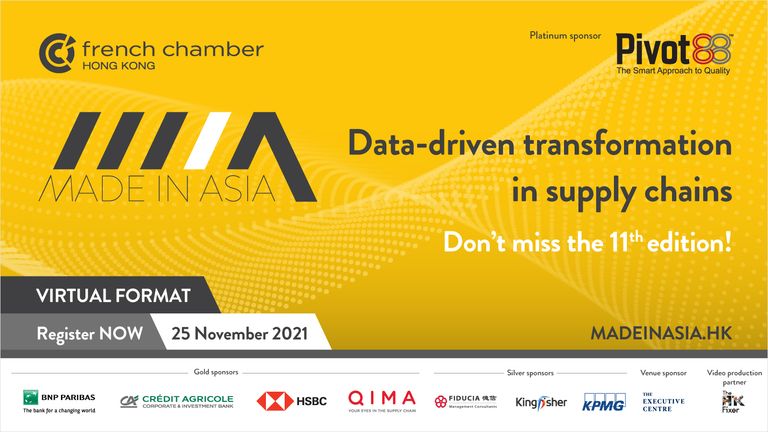 The French Chamber in Hong Kong's in partnership with CCI FRANCE CHINE, annual sourcing symposium, Made in Asia, returns for its 11th edition in a hybrid format to welcome speakers and attendees from across the globe on 25 November.
After a landmark 10th edition in 2020, the French Chamber's signature sourcing symposium, Made in Asia, is back to tackle data-driven transformation in supply chains.
The half-day hybrid conference will welcome guests and speakers from across the globe on 25 November 2021 from 2:00pm (Beijing) / 7:00am (Paris).
Hear from leaders in the sourcing industry as they examine how data is transforming our business models, the impact it has on supply chains, and the new role of procurement in this shifting landscape.
Mark your calendar now! More details to be announced shortly.
Giuliana Auinger (Partner (VP) for Sustainability Business, Schneider Electric)
Anson Bailey (Partner, business Development, KPMG)
Brice Berrard (Managing Director, GBO – ERAM Group)
Yvan Corno (Director, OQIDO Limited) Tobias Grabler (COO, Topo Solutions)
Eddie Hui (Lead, Digital Innovations, Lenovo)
Marjorie Hobin (Founder, Mind Up Consulting- Bespoke Solutions for Sustainable Purchasing)
Gavin Hodgson (Principal Manager-Design 2 cost, Vodafone procurement)
May Lam (Vice President-IT, Newtimes group)
Xavier Laforge (Chief of Digital Transformation, Oakley)
Carl Lauron (Founder & CEO, BuyCo)
Dominique Lebigot (Chief Purchasing Officer, Moët Hennessy)
Herve Legenvre (Research & Education on Supply Chain, EIPM)
Ludovic Le Moan (Founder, SIGFOX) Chouaib Rokbi (Chief of Digital Transformation, STMicroelectronics)
Ip Ying Lung (Director of Sales, Maersk)
Emmanuelle Piketty (Vice President Global Sourcing, BISSELL Homecare,Inc.)
Cyril Pourrat (Chief Procurement Officer, BT Sourced)
Regine Picard (Regional Head of Lead Logistics, Maersk)
Caroline Tissot (Group Chief Procurement Officer, AccorHotels)
Fabrice Thomas (VP Global Supply Chain, Agilent)
More speakers to be announced shortly.
Visit MadeinAsia2021