HOW TO KEEP SPORTS & CULTURE'S GLOBALIZATION HIGHLY CREATIVE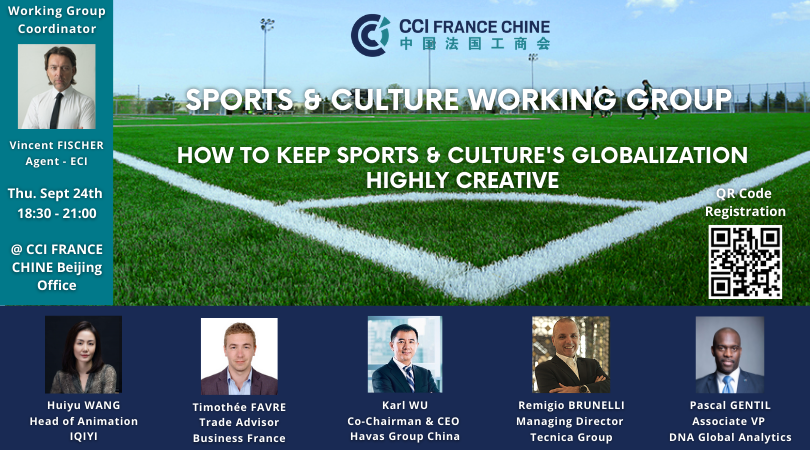 For the launching of the new CCI FRANCE CHINE Beijing Sports & Culture Working Group. Our expert speakers will share their experience and expectations of the future on the below topics.
How to create innovative products for the local and global audience, how to have marketing programs respect the brands' global positioning while addressing local audiences' sensitivity and interests, how to develop creative branded content for large audiences, how to stay on the creative edge, how to attract the world's best creative talent, how to coach your in-house talent towards international targeted markets' creative expectations.
Agenda
18:30 - 19:00: Welcome of the participants
19:00 - 20:30: Conference
20:30 - 21:00: Q&A
21:00: Cocktail
Speakers
WANG Huiyu
Head of IQIYI ANIMATION ORIGINAL CONTENT PRODUCTION STUDIO
Karl WU
Co-Chairman and CEO de HAVAS GROUP CHINA
Timothée FAVRE
Trade Advisor for Art Sports and Leisure, BUSINESS FRANCE
Remigio BRUNELLI
Managing Director, TECNICA GROUP
Terence CHU
Founder & CEO, APAX
Coordinator
Vincent FISCHER
Agent, ECI
Scan the QR Code to register