COVID-19 has impacted economies and lives around the world. It turned most organizations' digital transformation initiatives from 5 to 10 year plans into a huge challenge to be solved overnight.
Marketing technology like marketing automation & Webinar provide a new way for enterprises to accelerate the digital transformation process and find new growth and development opportunities in the aspects of product upgrading, business transformation, leads acquisition, nurturing & conversion, omnichannel data connecting, market strategy adjustment.
What you will learn from the session:
- Trends & Difficulties in the digital transformation of enterprises in China
- Make full use of MarTech & Webinar, to attract new customers, optimize conversion rate and accelerate digital marketing transformation
- How to optimize your campaign for audience and how to overcome the online marketing challenges
- Best practices
Agenda
7:00 pm - 7:30 pm: Welcome of the participants
7:30 pm - 8:30 pm: Presentation and Q&A
8:30 pm - 9:00 pm: Cocktail
Webinar: The link will be sent to you after registration.
Kai HONG
Chairman & CEO of JINGdigital
Mr. Kai HONG is Chairman and CEO of JINGdigital. He has more than 20 years of experience in Strategy, Marketing and Entrepreneurship. Prior to JINGdigital, he founded Capvision Group, the largest knowledge sourcing company in Asia Pacific, and Babymap, a leading Social E-Commerce platform for K5 in China. He has also worked for Siemens, Bain & Company, and served as Managing Director of Cisco Systems. He holds MBA from Wharton School of Business, MA from University of Pennsylvania and MSc from TH Aachen, Germany.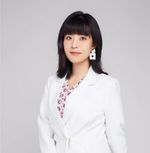 Yachen Xie
Digital transformation consultant, Vhall
Yachen is the principal digital strategy consultant of Vhall, possesses outstanding experience and unique viewpoints in business strategy, digital transformation and B2B content marketing. She specializes in mobilizing multi-party resources to provide high-quality marketing solutions for clients. Prior to joining Vhall, she worked as a consultant in Forrester, COFCO, and served as a PTA in Ipsos and McKinsey.
Event Location