本次活动仅对会员企业开放,共计8个名额,每家企业至多可有1位参加,参会来宾需自备电脑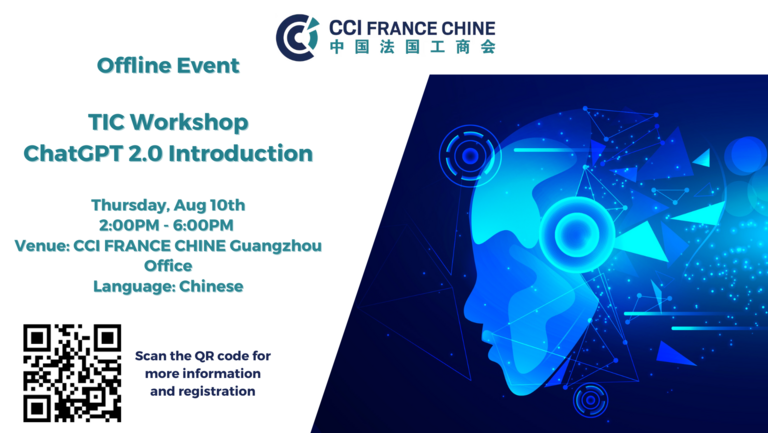 活动简介:在这门课程中,您将学习到如何使用ChatGPT以及其他智能自动化工具,从个人、业务人员以及企业场景角度了解如何提高您的日常工作效率。
了解自然语言生成工具的真正原理,提升对ChatGPT的正确认知
掌握ChatGPT从初、中到高级的应用方式与场景
作为企业如何安全有效地应用ChatGPT工具
The principles:
What are the misconceptions about ChatGPT
How does it learn?
What can it do? List of usages
How to make it work?
How do you make it work for you? - Exercise:
How would you use ChatGPT to create a daily work related scenario (let them choose from survey)?
How can it work better?
(Beginner Level) Successes and Failures
What you must know: the secret sauce to Prompts
(Advanced Level) The potentials
How could you make it work better for you? - 20 minutes break:
Break
Discuss with your team on your next assignment
How did you make it better for you ? - Workshop:
Re-engineer your prompts
Present your learnings
Your takeaways and how would you apply it at work
Summary: How could you use it for Corporates:
Other advanced use cases
The Risks
SIM Offers
Closing Survey
第一章:基本原理
常见的认知误区
基本工作原理-为什么ChatGPT时而见多识广,时而一派胡言?
基本应用场景有哪些?
与ChatGPT交互的初级探索
第二章
直接动手,尝试在工作场景中应用ChatGPT
与ChatGPT交互的进阶秘籍
各类智能应用场景案例
第三章
即学即用,分组实践:利用进阶秘籍改写您的提示语
成果展示, 互相学习:思维链展示
第四章
高阶商业应用案例
企业应用ChatGPT的风险与潜能
适用对象:
本课程适用于所有有意了解如何从个人以及企业角度应用ChatGPT的每一位。
Trainer 讲师
Jackie Fong
Account Director
现任上海鼎骏软件科技公司华南区域总监、人力资源部门主管,跨国集团信息系统项目团队、数字化项目风险管理、团队领导力培训导师。
创业者联盟EO Executive Forum 成员、SheroUp Academy, SheWorth联合创始人、职场领导力个人自媒体、精力管理倡导者。
Event Location