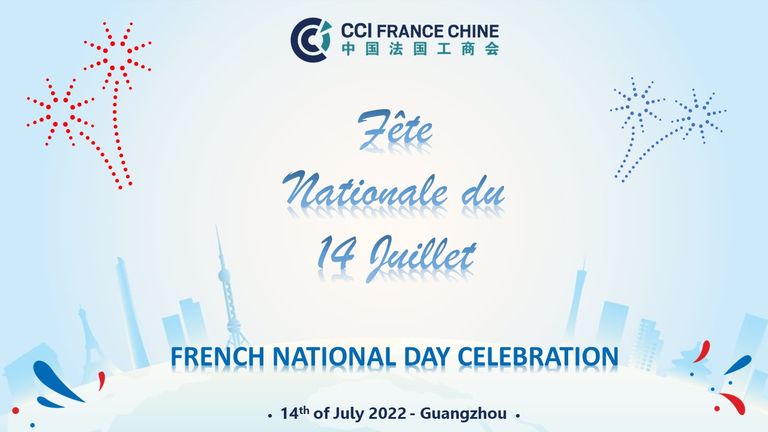 The French National Day is known as the most important celebration for the French people. Symbol of gathering, sharing and enjoying the moment, it is all about the genuine French culture.
Celebrated every year on the 14th of July in France, CCI FRANCE CHINE is honored to organize this key event to bring together the Sino-French community in Guangzhou and all lovers of French culture & spirit.
Welcome to La Fête Nationale and share a moment of lightness during this time.
To sublimate this evening, CCI FRANCE CHINE has the pleasure to hold the event at the SOFITEL Guangzhou Sunrich.
This year, we will also organize a shuttle bus from Shenzhen to Guangzhou which will allow people in Shenzhen to join the celebration.
法国国庆节是法国人民最重要的庆祝活动。它是人们聚会、分享和享受当下的象征,也是真正法国文化的体现。
法国每年7月14日都会庆祝国庆节,中国法国工商会很荣幸能在广州举办这一重要活动, 将广州中法商务圈人士和所有喜爱法国文化和法国精神的人们聚在一起。
欢迎大家参加法国国庆节活动,共享轻松时刻。
为隆重庆祝此节日,中国法国工商会将在广州圣丰索菲特大酒店举办鸡尾酒会活动。
今年,我们还将安排深圳和广州间的往返班车,方便深圳的嘉宾参加此次庆祝活动。
AGENDA 活动安排
6:00 PM - 7:00 PM : Welcoming drinks | 晚上6点-晚上7点 | 迎宾祝酒
7:00 PM - 7:30 PM : Official Speeches| 嘉宾发言
Consul General of France in Guangzhou, M. Sylvain FOURRIERE
法国驻广州总领事,Sylvain FOURRIERE
CCI FRANCE CHINE Vice-President, Mr Benoit AUGER
中国法国工商会副会长,Benoit AUGER
7:30 PM - 11:00 PM : Cocktail dinner and National Day Celebration with performance by DJ Iron MONG | 鸡尾酒晚宴及现场DJ表演
SHUTTLE BUS (Shenzhen-Guangzhou) 深圳-广州往返班车
4:00 PM : Shuttle bus from Shenzhen, Nanshan district to SOFITEL Guangzhou Sunrich
下午4点00分:从深圳南山区出发,到广州圣丰索菲特大酒店的班车
Address 集合地点: Chinese Overseas Scholars Venture Building, No. 3170 Keyuan South Road, Nanshan District, Shenzhen | 广东省深圳市南山区科苑南路3170号留学生创业大厦一期
23:00 PM : Shuttle bus back to Shenzhen, Nanshan district
晚上11点00分:返回深圳南山区的班车
INDIVIDUEL TICKETS 个人票
CCI FRANCE CHINE Members Non Members
会员价 非会员价
280 RMB 380 RMB
280元 / 位 380元 / 位
Click here or Scan the below QR Code to Register
点击此处或扫描二维码参与报名

PARTNERS 合作伙伴
To become a French National Day Partners in 2022, please contact
成为2022法国国庆日活动合作伙伴,请联系: sc-event@ccifc.or
CONTACT US 联系我们
Event Location