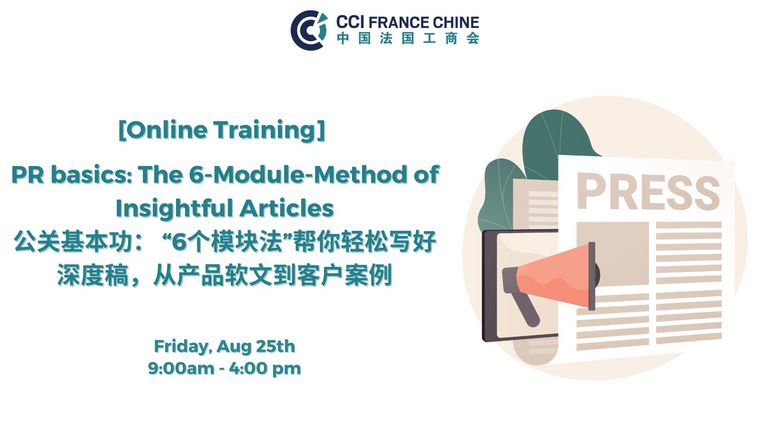 课程说明 Introduction
企业宣传中,文案写作是最基本的工作。除了新闻稿、演讲稿,深度稿的撰写和应用最为广泛。内容涵盖从产品软文到成功案例的各种应用场景。深度稿因为内容来源更多,应用场景更多,因此对写作能力提出了更高的要求。
本课中,会用"六个模块法"来帮助学员掌握深度稿的写作方法。
Writing is the most essential task in corporate communications. In addition to press releases and speeches, insightful articles are the most widely used. The content covers a wide range of application scenarios, from products' information to success stories.
Insightful articles require a higher level of writing skills because the content comes from more sources and is used in more scenarios.
In this training, we will use the "six module method" to help participants master the insightful article writing method.
课程大纲 Course Outline
第一节:深度稿的类型
深度稿是一个统称
产品软文
成功案例
客户案例
企业介绍
项目介绍
活动推广文案
深度稿的传播形式和对应的呈现形式
第二节:"6个模块法"之一:目标及主题(意义性)
品牌不止LOGO,更是立体完整的故事
"故事"4大特性:完整性、趣味性、共同性、意义性
故事营销无处不在,目标引领一切:意义性
主题必须先行——提炼或策划
第三节:"6个模块法"之二:受众和场景(共同性)
客户/消费者记住品牌:在对的场景遇到对的故事
受众接触故事的特定场景
好故事带有情感,引发共鸣才是好故事
文案故事:用好莱坞编剧技巧营造"场景感"
图片及小视频剧本:场景感的引入技巧
第四节:"6个模块法"之三:主角和情节(趣味性)
故事的目的只有一个:打动人心
品牌不一定总是C位,选对主角营造共鸣
真实感是最佳营销力:创意和过度营销的边界如何衡量
共鸣到了,趣味自然来,避免强行"网感"
提炼"真实感"的小技巧
第五节:"6个模块法"之四:关键信息点(完整性)
事实是故事的核心,避免过度营销
不同故事涵盖关键信息点的不同数量
关键信息点的表现方法
第六节:"6个模块法"之五:4种故事结构(完整性)
中国受众的独特"故事"理解力
中国受众更易读懂的"故事"核心架构
故事结构技法之一:顺序法
故事结构技法之二:悬念法
故事结构技法之三:动作法
故事结构技法之四:框架法
第七节:"6个模块法"之六:好用的套路
企业品牌常用架构:2W1H结构法(课堂练习)
产品说明稿的一个好用结构:SCQA结构法(课堂练习)
成功案例的一个好用结构:华尔街日报体(课堂练习)
第八节:几招提高专业度——应对"没得可写"
养成好习惯:日常积累和收集资料
"第三方客观证明"是最佳专业盖戳方法
数据使用有技巧
专业进阶法:数据和信息的可视化
"专业度"不等于"让人读不懂"!避免复杂
第九节:快速提高文采的技巧
善用小标题,结构清晰逻辑好(课堂练习)
有人物讲故事,行文不枯燥(课堂练习)
加场景加细节,选择细节有诀窍(课堂练习)
起承转合有技巧,承上启下更流畅(课堂练习)
善用诗文,不要滥用美文(课堂练习)
第十节:写作完成后的最终修改清单
自我编辑以及写作逻辑的梳理的必要性
修改的多种方法
关于写作目的和读者的关键问题
大纲的逻辑是否通顺
核心证据、事实、数据是否确凿无疑?
涉及公司的词句、事实
文字是否简练?语法?
修改是提升的好办法:你需要帮助
Trainer 讲师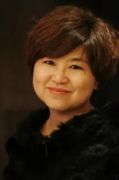 Ulan Tuya 乌兰图雅
Over 17 years of working experience in International PR agencies
Registration 课程报名
Please scan the below QR code to compelete your registration | 请扫描下方二维码报名
The connecting processes will be sent by email after registration | 报名成功后会发送网课登录信息到邮箱。