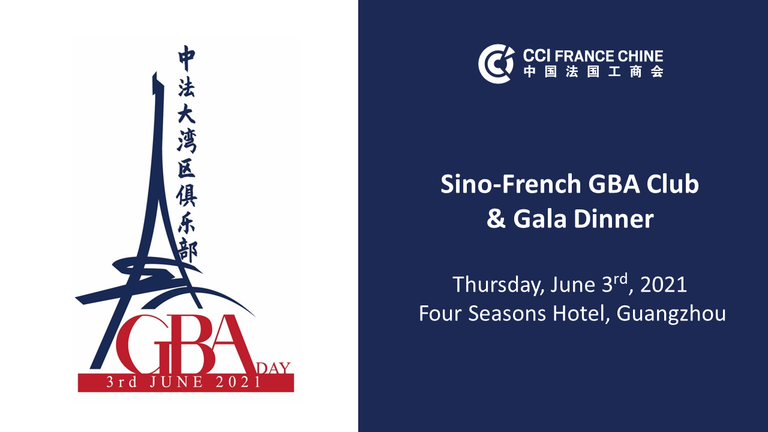 This year, the General Consulate of France in Guangzhou and CCI FRANCE CHINE, in partnership with SUNWAH will organize the first edition of the Sino-French GBA Club with the participation of the French Trade advisors in China, that aims at introducing the comparative advantages of the Greater Bay Area in terms of market opportunities, investment and innovation to French companies that already have activities in China.
今年法国驻广州总领事馆和中国法国工商会,协同新华集团,及法国驻华贸易顾问团(CCEs)支持,将举办第一届中法大湾区俱乐部。本次活动旨在向在华开展业务的法国企业,推介大湾区在市场机会、投资和创新方面的相对优势。
The opening session, led by French and Chinese officials, will begin with a presentation on the strengths and capabilities of the GBA, the economic characteristics and the special policies of this area for foreign companies. Guests will then be invited to participate in several round tables about: Health & Bio-pharmacy - Industry, Tech & Innovation - Services, Fashion & Design.
开幕式上,将有中法政府官员代表介绍粤港澳大湾区的发展优势、经济实力和面向外资企业的政策优势。嘉宾将受邀参与一系列的圆桌会议,围绕健康与生物制药工业、技术与创新服务、时尚与设计三大领域共同展开讨论。
This Greater Bay Area focused event will be followed by the first CCI FRANCE CHINE GALA DINNER in Guangzhou, where the guests will experience a unique evening with exceptional performances, an exquisite dinner and an award ceremony to highlight Innovation in the GBA.
继聚焦大湾区发展的活动后,中国法国工商会将在广州四季酒店举办第一届高端商务晚宴,届时将有精彩的表演和高级晚宴,并为对大湾区创新领域做出杰出贡献的中法企业家举行颁奖典礼。
PROGRAM
All during this not-to-be-missed event, you will have the chance to get a great visibility for your company and brand through our media.
通过我们的媒体资源,我们将极大地提高您的公司和品牌的知名度。
Discover the partnership offers (EN)
CCI FRANCE CHINE Members' Price*
RMB 980 per seat
RMB 10 780 per table (11 seats)
CCI FRANCE CHINE non-Members' Price*
RMB 1 380 per seat
RMB 15 180 per table (11 seats)
*All above-mentioned prices are subject to applicable VAT = 6,72%
Download the Reservation Form here
Contact us for more information regarding our partnership at
更多合作相关信息, 请致信:
Event Location